You may be wondering, what's the difference between stock cabinets and custom cabinets. What about semi- custom?
Why are there so many types of cabinets? What makes kitchen cabinets different from each other?
Stock cabinets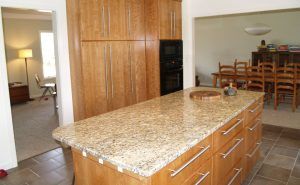 These are cabinets that are built in the sizes that get used most often. For some jobs these are great because they are already made and inexpensive in relation to other cabinet choices. What you might not like is they sometimes need wood fillers to make them fit into your kitchen. A wood filler is a 2, 3, 4, 5, or 6 inch piece of wood to fill in the space you have left over.
Benefits – less expensive, usually fast to get, and some stock cabinets are very well made.
Cons – may need filler strips (which are obvious), fewer styles of doors and finishes. Less efficient storage. Fewer cabinet choices.
Semi custom cabinets

One step up from box cabinets. Semi custom offers more options as far as size goes, they also offer many more wood choices and door and drawer styles. A semi custom cabinet line will reduce or eliminate the need for fillers, it will allow you more design and when well done can match the beauty and quality of custom cabinets. A semi custom cabinet install for your kitchen will allow you to order an odd size cabinet to perfectly fit your space.
Benefits – more design choices, less money than custom, better quality materials and finishes.
Cons are – modifying cabinets adds a hefty fee at times (up to 30% per change), so a $400 cabinet made 1/2″ wider will cost over $500, make that same cabinet 2″ taller and its another 30% and now the cabinet will cost over $600. Do this enough times and you might consider custom cabinets.
Custom cabinets
For not much more money than semi custom you can build your new kitchen with custom cabinets. After we measure and decide on your appliance choices and storage needs we will give you a drawing for your approval and build your custom kitchen. With custom you can get everything you want and sometimes at a price that isn't much more than semi custom. Custom cabinets allow you to easily mix and match styles and colors. Would you like stained lower cabinets and painted uppers? No problem!
Custom cabinets allow you more efficient use of space. With custom we can get the look you want with the accessories you want. Need a spot for that pasta machine, your espresso maker, the hot pot cooker you use every weekend? Custom allows you to consider every possibility so your kitchen is exactly the way you want it.
While true custom may cost more, a custom kitchen is like getting fitted for a suit, its perfect for you.
Benefits – better use of space, getting exactly what you want. High resale value.
Cons – it will cost more, waiting times are longer.
Whats best for you?
Any of these may be your best choice.
To find out more call Aspen Remodelers at 612-490-3560
See some of our MN Kitchen Remodels