Sexy, Smart, comfortable, Classy
The process for a great kitchen remodel experience is pretty straightforward and the first step is thinking and planning. Do you want a sexy and sassy look with all new appliances? How about that country look, a kitchen where friends and family gather while you prepare their favorite comfort foods?
Here are some steps to help you get your dream kitchen.
Here are 8 steps to help you get your dream kitchen.
First think about what you want and then figure out what you really need. Wants and needs are not always the same thing.
Research appliances and materials, see how they work together.
Get in touch with a professional kitchen person to help you make sense of all this new information.
Design, design, design. A good contractor can provide a color print of your new kitchen before its built. This step, to have a drawing of what your kitchen will look like when work is done will save you lots of time and worry.
Fixture and finishes specifications:

Cabinets: You will be choosing from cabinets that offer different door styles and you will need to choose what wood species would look good in your home.
Oak, Maple, Cherry are great woods but you may be drawn to the wild grain look of Hickory or maybe an Alder cabinet with its soft tones and tight grain.
Kitchen cabinet door styles range from flat, sleek and modern or maybe the classic raised panel is more to your taste.
Countertop materials: You can decide on stone, metal, wood or laminates. A quartz top will take lots of punishment but maybe your budget calls for a laminate top. Laminates come in many different colors and offer endless opportunities to jazz up your space. I have seen 40 year old laminate tops that still looked new.
Appliances: Can be colors or stainless steel. Ranges come in gas or electric energy sources, or both. You can also go dual fuel and have gas burners with an electric convention oven.
Sink and faucet: Are important, do you want stainless steel or cast iron porcelain?
Backsplash materials: Tile, stone, wood, stamped metals can all make for a beautiful backsplash.
Lighting: Oh! Under-cabinet, pendants, low voltage. Lighting is used for tasks, show and ambiance.
Flooring: Cork, wood, tile or vinyl can add practical and easy to care for color walking areas.
Cabinet handles and pulls: Come in hundreds of styles and materials. The simple beauty of brushed nickel, the timeless beauty of oil rubbed bronze or a vintage glass pull will dress up your cabinets.

Finalize the design, this is when the rubber hits the road and its the time to be sure of what you're getting before you sign the contract to build your new kitchen.
Hire your contractor. Set a start and finish date.
Demolition, out with the old and in with the new. Your kitchen is in progress.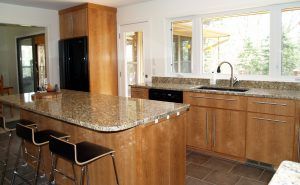 Kitchens take time so expect 7 to 20 workdays but we can help make that easier, just ask and maybe you can have us put in a temporary work area while construction is going on.
From the first consultation to the last item Aspen Remodelers is there working for you.
And the ending?
We walk through and address any comments you wish us to discuss and we don't ask for the final payment until your satisfied.
Call Dean, 612-490-3560, and let us get started on your new kitchen today.