Kitchen in a week!
Can it be done? How can you do my kitchen in 7 days when my neighbors took 6 weeks?
Other companies have their process but Aspen Remodelers gets your kitchen designed and cabinets delivered for installation before your project is started. Once we start construction you can count on your kitchen being done in a week, 7 days of high energy remodeling and your kitchen will be complete.
Let us get started right now!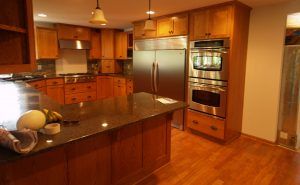 Step 1.
We meet for the initial consultation.
We determine your likes, dislikes, wants and needs.
We sign a design agreement
We start the design.
Step 2.
Our design expert will show you different cabinet styles and finishes.
We will discuss budget ranges for your kitchen and offer design solutions.

Step 3.
After you make your choices we will present kitchen drawings with product specs and pricing options.
When the project meets your approval we accept a down payment and begin the order process. You will be given a project binder so you can keep tabs on whats coming.
Step 4.
We secure the building permit and wait for materials to arrive and after they arrive and are checked to be correct and perfect we set a start date. No work starts until everything that is going into your beautiful new kitchen is in our warehouse.
Now is when the 7 day kitchen remodel begins. We coordinate demolition and after we prepare your home to accept the new cabinets, tops, flooring, whatever it is we have been asked to install.
Upon completion, Aspen Remodelers will walk through your new kitchen with you and make sure you are 100% satisfied.
Total time: 7 days.
There are things that could make a 7 day kitchen impossible, such as removing walls or installing certain products that require long dry times. If that's the case we will discuss this with you, in any event, our kind of planning will get you in your new kitchen faster than most companies.
We have the skill, we have the process.
Call us to visit you and discuss what the details that will get your dream kitchen in 7 days.
612-490-3560
Kitchens In A Week