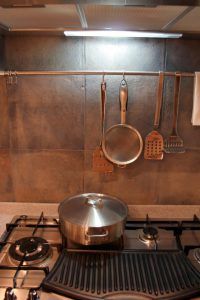 It's the New Year, and designers have been working hard on new kitchen ideas that meet the needs and desires of modern homeowners.
If you're planning on remodeling your kitchen in 2013, here are a few of the key trends:
Hidden Appliances
There is a movement towards cleaner, simpler design.  While stainless steel refrigerators may have been the focal point of the kitchen a few years ago, now, home owners and designers are increasingly leaning towards hiding the appliances.
One of the most common ways to hide appliances in 2013 kitchen design is to install under-the-counter mini refrigerators, creating one smooth level, instead of varying heights.  Compact appliances like wine refrigerators and trash compactors are being added to kitchen islands.
Going "Green"
It seems like all anyone talks about anymore is "going 'green'", so it is no surprise that being environmentally conscious is one of the top kitchen trends for 2013.  Of course, energy efficient appliances are still big, but now, new materials have been introduced to popular kitchen design, like bamboo floors and MDF (medium density fibreboard) cabinets.
Even if you're not particularly worried about your carbon footprint, making energy efficient choices has its benefits, not the least of which is reducing your monthly power bills.
Combining Different Types of Materials
When it comes to 2013, think minimalism and clean lines.  Even if you're not a fan of the under-the-counter refrigerator trend, you can still achieve the desired look by installing cabinets with recessed pulls.  Taking the handles and knobs off of cabinets creates a streamlined look; for such a simple change, it's remarkable what a difference it can make in appearance.
Exotic Cabinets
Cabinets are no longer just for storing dishes: in 2013, they are a beautiful part of your kitchen design.  Designers are using all types of unique materials for cabinets.  The most stunning materials of all are the cabinets that mimic animal prints, like high-gloss, black cabinets with a snakeskin appearance.
While having a kitchen that is up-to-date with the latest trends is coveted by many people, remember that at the end of the day, you are the one who has to cook and eat in it.  Don't design to impress your guests with how "en vogue" you are; handpick what you like out of this year's kitchen design trends and combine it with what you like from the past.  If you still love the look of stainless steel, go for it.  If you have a bad back and don't want to constantly lean over to get food out the refrigerator, forgo the new under-the-counter style.  No matter what, your kitchen should be designed for your unique needs and tastes.