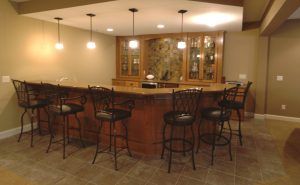 Remodeling a basement is an attractive possibility for many families who need more space, or even people who just want to upgrade the look of a "creepy" basement.  Basement renovations can turn a dank, eerie, unusable space into a gathering place for your family, or add a great deal of room to your house.
Before you start a basement renovation project, there are a few questions you should ask yourself:
Why do you want extra space in the first place?
Ask yourself if you need more space for a playroom, to get your exercise equipment out from underfoot on the main floor of your house, to have a television room, or to entertain.  There are many possibilities with basement remodeling projects, from a home gym to a playroom for the kids or a bar for the adults.  The floorplan for your basement will largely depend on how you plan on using the space.
Do you own a historic home?
Owners of historic homes frequently want to remodel their basement, as they are often unsightly and the building codes or space considerations of the neighborhoods in which they are found often prevent them from building a room addition.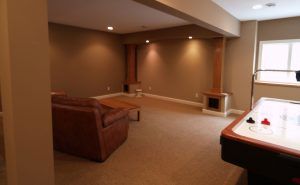 Preventing water from infiltrating the basement of a historic home can be a mission.  Don't forget to factor the cost of the system to prevent water infiltration into your budget.  It is also important in such homes, in which moisture is a real concern, not to use fiberglass.
What is your budget?
With a basement remodeling project, as with any home remodeling project, it is important to be clear about your budget before you get started.  Not only will it direct the timing of your project, it will also shape the features that you decide on.  Make sure that you get a detailed quote in writing from your contractor before you get started to ensure that any over-budget expenses are well within reason and absolutely necessary, unanticipated expenses, not ones that you are being charged for a second time, when they are already factored into the original quote.
Do you have any water issues?
There are countless waterproofing considerations when it comes to finishing a basement.  There is nothing that will cause problems later like failing to take all of them into account.  Not only should the ground slope away from the foundation on all sides and all cracks in the foundation wall be repaired, there are innumerable other details that, if forgotten, can lead to disaster.  Among them are insulating cold-water pipes and ensuring that the basement is well-ventilated throughout the renovation.
What are your local building and fire codes?
Before you get started, make sure you know the building and fire codes in your area.  What is a habitable room size?  What ceiling height is considered up-to-code?  What are the relevant codes for plumbing, electrical, heating, and air condition work?  Don't forget about insulation, partitions, walls, wall construction, natural light, ventilation, safety glazing, stairways, draft stopping, fire stopping, and smoke detectors.  Your contractor should be able to help you navigate the ins and outs of your local building codes.
By making sure that you have considered all aspects of a basement renovation before you get started, you can ensure that the work, itself, is done in as smooth and seamless a manner as possible.  Once the work is complete, your family will be ecstatic to have a new favorite space in the place of the dirty old pit where they never dared to venture in the past.