Advice from a contractor.
I have been doing home remodeling in the Twin Cities for over 25 years. I have worked with many types of clients, a wide range of home styles, very wide range of original age of homes and from small projects to building a new home.
The first interview.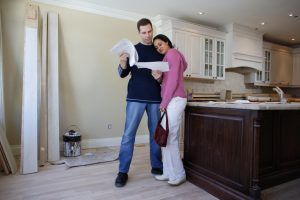 The first interviews are almost always similar in nature regardless the type of remodel project. Potential clients need to get to know me and my business and need to get to know them and about the project they have in mind. Not all projects and clients will fit all contractors and their business. An experienced contractor can summarize pretty quickly whether the project and client are potentially a good match or poor match for the contractor and his business. Don't be surprised or take it personally if your project gets turned down at this point.
Relationships
One of the most important aspects to consider is the relationship between the clients and the contractor. For both parties trust and a sense of working together toward the same goal is important. Common remodeling projects take anywhere from one week to several months. The contractor, as well as his employees and sub-contractors, will be on the clients property and be interacting with their family and neighbors. Also along the way important decisions will need to be made for materials, changes, complications that arise etc. Having trust in the contractor and their experience during these times will make all the difference in how the client feels about their remodel at the end of the project. Likewise, the contractor needs to trust that the client will pay as contracted, bring up any issues important to them with a level head and trusted to do a quality job with the same vision as the homeowner.
I started Aspen Remodelers about six years ago and we have done quite a bit of business regardless of my efforts to keep the business small and personal. In that six years + we have had significantly higher satisfaction rates than similar businesses in the industry. As a small business owner, I am proud to keep on top of things for my clients and am constantly working on my relationships with them. At the end of the day, it is my devoted clients that are ensuring my success.
I always recommend meeting personally with the contractor's that they have selected. Try to get to know the person and evaluate if you could work with and trust them for weeks or months at your home.
I believe that I am not just selling a room addition, kitchen remodel or whatever remodeling project you are dreaming of but I am selling a process. My goal is to make that process as fun, stress-free and enjoyable as possible for the homeowners and their family.
Location
The next thing to consider is the location of the contractor's office. I get calls from all over the country for remodeling projects. I have to turn projects down if they don't fall into my service area. My business is local and I use my preferred local, and trusted, subcontractors. The longer distance the contractor is the more likely; see an added cost for fuel/time, lessen the time on-site by the contractor, increase in subcontractors the contractor hasn't worked with previously (added unknown quality vs. cost). Choosing a contractor that is relatively close to your home will generally have a smoother project outcome.
Most people are comfortable with under a 30 minute commute to work. I feel comfortable with up to a 45 minute commute. So most of our work is in the south and west of the Twin Cities. Burnsville, Savage, Eden Prairie Bloomington or within about a twenty mile radius of Shakopee.
Apples to Apples
Everywhere you read 'they' say to get 3 estimates. This really isn't necessary but is more intended to offer homeowners further confidence in value provided for their dollar. Put another way; to ensure they are not getting grossly overcharged for a low quality product.
If you are comparing bids from several contractor's they should all be bidding on the same plan, products, materials, included allowances and specs. If you get a piece of paper with a price scribbled on it, what's really included in that number is anybody's guess. The more detailed the estimate the better it is for both parties.
Cost vs. Value
There are thousands of remodeling contractor's in Minnesota, and unfortunately, we don't all have the same quality versus value standards.
I was at a Home Depot the other day and was just looking for some caulking. I'm particular about the products that I use, they are not all created equal. Something as unassuming as caulking, on a one hundred thousand dollar project, I could save my self an estimated $140.00 by going with the cheap caulk. Heck, who wouldn't want an extra $140 in their pocket? For the savings, it will increase my chance for a warranty issue/repair and increase the chance of failure after my warranty expires. Both instances would cost much more than the $140 saved.
Because a product is more expensive doesn't mean it isn't the best value (value: to consider with respect to worth, excellence, usefulness, or importance). If it's a product that I wouldn't put in my own home, I won't put it in yours either. That is just one product I will not buy large amounts of from one of the box stores, where quality suffers so they can move quantities, to save a dollar. My lumber comes from a lumber yard and my millwork comes from a specialized millwork supplier. They look out for my interests and I can count on the quality and reliable service.
I will follow up in the future with more advise around planning a home addition or home remodel.