A bathroom is among the areas of the home that provide comfort and solace. Therefore, such a room deserves a lot of attention when it comes to issues pertaining remodeling. Some of the factors you should consider combining when remodeling your bathroom include logic, style and creativity. Viewing pictures of other remodeled bathrooms will give you more tricks to put into consideration when you want such a room to reflect your personality.
Tips to Put into Consideration
#1: Having a Reliable Plan Before Starting the Remodeling Process:
Working with an architect or designer may appear a pricey process; but in the long run will turn out to be money well spent. An expert will ensure that your timeline, budget and design are realistic.
#2: Do Not Toss Cash Down the Toilet: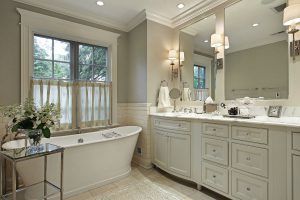 When remodeling the bathroom, you should consider replacing the toilet lid and seat rather than tossing out the entire porcelain perch. Replacing the two tops will definitely give your toilet a fresh appearance without purchasing a new unit.
This will save you plumbing installation fees.
#3: Getting Rid of Storage Area in Your Bathroom:
Get rid of any storage area as it will only add to the bulky appearance of your bathroom. When choosing tiles, consider the light colored ones so that they can make your bathroom appear bigger. If you do not prefer darker shades of paint and flooring, simply place mirrors strategically so that they can give you the effects of a larger space.
It is important that you consider investing in modern facilities which will assist in saving space.
#4: Considering Open Shelves:
A few covered baskets or drawers will house your colorful towels and private items. This means that you will not require hiding such items in your dark closets.
How to Find a genuine Minnesota Bathroom Remodeling Company
Reference and Knowledge:
People in Minnesota that may have previously hired a remodeling firm can assist you locate a reliable contractor to liaise with. Ensure that such individuals inform you about the various remodeling firms they know in Minnesota and the money amount they were charged when renovating their bathrooms.
Considering Licensed and Insured Bathroom Contractors:
Consider licensed remodeling companies as it is the only way of proving that you are dealing with legit people in Minnesota. Liaise also with insured pros as you will be compensated should they cause damages to your bathroom.
Dealing with Pros Assuring you With Affordable Quotes:
Deal with an expert that will give you satisfactory services and charge you fairly in terms of pricing.
Bottom Line
While there are accessories in the bathroom which are a must have, there are others that provide indulgence and can be installed only if you have enough room in the toilet. Generally, creating lists of things you require in your bathroom, relying on the space you have in your toilet, as well as purchasing modern accessories and products is a sure trick that will contribute to giving your room a modern and appealing finish.
Adhere to these tips when remodeling your bathroom and you will not regret.