In a tough housing market, homeowners want to improve their home's beauty and functionality, while adding resale value. This may include choosing products that reduce maintenance, save energy, improve appearance and offer protection from the damaging forces of nature. Here are some tips for problem areas that could benefit from the latest home solutions:
Timeless decks with natural looks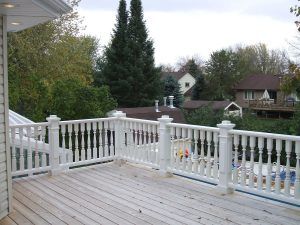 In the past decade, alternatives to wood decking products have made many claims of low-maintenance. However, if your deck has stains and is in an environment that breeds mold and mildew, maybe it's time to look at some new options on the market. If your decking product contains wood fibers, it may be absorbing stains and getting scratched in everyday use.
"There are low-maintenance products that give homeowners a rich selection of deeper deck shades, tropical hardwood looks and durable, sturdy railings that complement these colors," says Mike Gori, deck expert for AZEK Building Products, maker of AZEK Deck. He says the secret is cellular PVC technology, which resists food stains – even red wine – and stands up to the most high energy kids, dogs or neighborhood deck parties. Low-maintenance decks also increase your home's value because they economically add living space and are easy to clean.
Lattice entertain you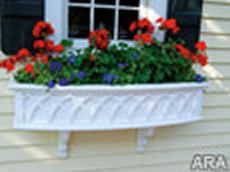 If you think your outdoor planters and window boxes cannot have detailed lattice work and scrolled designs because of a high moisture environment, think again. There are natural looking materials that support plant life and won't rot, split or warp, even with continuous watering and sunlight. For example, the Freeport Collection of low-maintenance cellular vinyl boxes and planters that look like the real thing and have classic detail and lattice designs.
These durable items do not need liners and come with pre-drilled drainage holes. Beautifully crafted window boxes are charming accents to your home and bring color right outside your window. Adding architectural details also makes your home stand out in the neighborhood. The company offers free catalogs at (800) 343-6948 or visit www.walpolewoodworkers.com.
Stay pumped, go green
Following one of the wettest winters on record in many areas of the country, keeping your home safe from damaging flood waters is critical. Now, there are sump pumps that offer maximum protection, save energy and are very easy to install. They also feature backup battery pumps and alarms for extra protection in case of power outages. This increases peace of mind for homeowners and could be a make or break selling point.
The experts at WAYNE Pumps advise that if your sump pump is more than 10 years old, it may need to be replaced with new technology. "Our sump pump hydraulic expertise has evolved to where we can offer pumps that move more water faster using up to 50 percent less energy," says President Joe Mauro. "We've also developed features like quieter operation and the new iSwitch that uses a microprocessor to sense rising water levels before they could become a problem." He points out that investment in a reliable sump pump and battery backup system is minor compared to the damage water can do to valuables, family heirlooms and your home's resale value. Self-testing features to keep backup pumps in top shape and wireless alarms offer even more layers of protection for your home.
Repair cracks to prevent future damage
A small crack in your driveway or cement steps can become a crater, due to harsh weather and temperature changes. Crumbling concrete or cracked driveways can detract from curb appeal and reduce resale value. However, if properly sealed with the right caulk product, your outdoor masonry or blacktop areas can be repaired without continuing to deteriorate. You can also seal off energy leaks and keep out damaging moisture, indoors and out, such as around windows, receptacles and under the door step.
"We've been developing new caulks, such as our new RD 3000 advanced sealant line formulated to move and remain flexible once cured, allowing more stability through climate changes or pressure," says Jason Ringling, marketing director at Red Devil, Inc.
He noted that driveways, concrete steps and walkways can experience movement from car and foot traffic and endure the freeze/thaw cycles of the seasons. "You need a durable sealant that stands up to the elements to prevent the damage from spreading," he says. Always look for products specifically for concrete, blacktop, gutters and windows and doors. A simple caulk job reportedly can save you up to 20 percent in energy bills and big bucks in outdoor repairs.
Homeowners can make informed, smart choices about products that will improve their home's resale value and add enjoyment to their current lifestyle.
Courtesy of ARAcontent