Residents of Burnsville Minnesota can count on Aspen Remodelers for all their home remodeling needs. As a longtime resident of the area and over 25 years of experience in home remodeling I have remodeled many homes in Burnsville.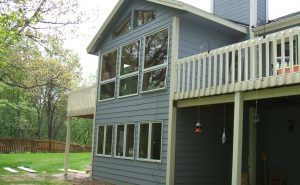 The vast majority of homes in Burnsville were built in the seventies and eighties. Homes of that age tend to have products that were installed many years ago and are nearing or are past their expected service life. Siding windows and kitchens are popular updates to aging homes. The homeowner realizes the immediate benefit of their investment as well as their personal comfort.
Remodeling projects that dramatically change older homes and have high returns on investment.
Knock Down Walls
Literally, knock down as many walls as you can and still retain the integrity of the home, and the necessary separation of rooms. If you compare older homes to newer homes, you'll notice that older homes are typically "choppy" while newer homes feel "open and flow well." This is due to "line of sight." Newer homes opt for less separation in rooms. You can create this same feeling by demolishing a half-wall that separates your kitchen from the living room or knocking down the wall between the living room and dining room to create one grand room. You'll be amazed at the difference it makes.
Overhaul Your Kitchen and/or Master Bathroom
These are the two rooms in the house that you can almost go overboard and still get your money back when you sell the home. Refinish or replace the cabinetry, put in new tile and sinks – even install a new, stand-up shower! When (or if) you put your home on the market, you should see a great return on investment.
Update your flooring
Outdated carpeting and vinyl flooring can make your home look and feel older and out of date. You add new life into your home by ripping up old carpet and flooring and having new flooring or tile installed. Wood flooring is very popular in homes right now, especially in entryways and kitchens and dining rooms. You can save money on this by installing laminate flooring as well, which looks just like wood and also holds up better against spills and scratches, ideal for families who have pets or active kids.
Have An Upcoming Project to Discuss?
Get a Quote Today.
Get in touch today to see how Aspen Remodelers can take your project from idea to completion.